R&D Achievements
Hana Pharm will continue to strengthen R&D capabilities,
create technological value,
and contribute to human health
through the development of the qualified pharmaceutical products.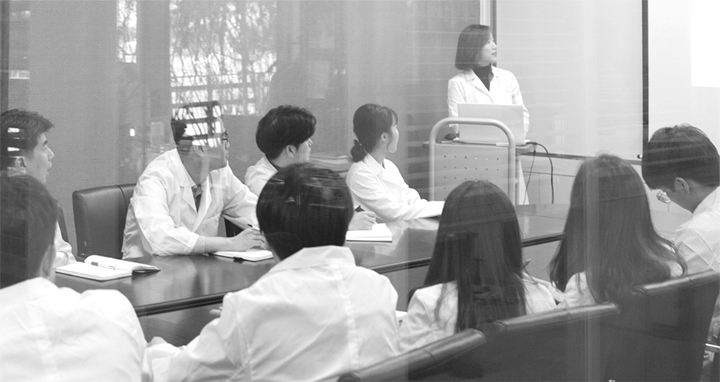 Established in 1998, the Hana Pharm research division is engaged in various R&D projects to become an R&D oriented pharmaceutical company by strengthening its capabilities such as recruiting excellent researchers, establishing advanced infrastructures, and by collaboration among industry, academia, and researchers.

We have excellent technology in sedation / anesthetic and pain medicine.  We are playing a leading role with excellent research capacity in drug substance synthesis, generics, and new drug development.

In addition, Hana Pharm R&D division is developing innovative anesthetic and sedative, remimazolam and the MRI contrast media HNP-2006 as a next-generation drug to create synergy in existing strengths.

Hana Pharm will concentrate on R&D to build an optimal research environment and achieve competitiveness to become a global pharmaceutical company.
Since its inception, Hana Pharm has been striving to acquire facilities and technologies to stably produce a high quality drug substance. As a result, Hana Pharm has obtained more than 30 drug substance production licenses and related patents. 

The Hana Pharm research division is committed to a high quality and high value-added drug substance synthesis abilities with market competitiveness by developing cutting edge technologies in drug synthesis.  As a result, in 2017, anti-emetic drug substances, led by Granisetron, were approved for Japanese export licensing with the recognition as a manufacturer of  qualified drug substances, which became a cornerstone to penetrate the regulatory markets.

The Hana Pharm research division continuously develops and launches qualified generic drugs, contributing to the improvement of public health.

In the four years, from 2014 to 2017, the sales volume of products developed and launched by the research division has grown 30% annually.

The development experience and accumulated technology in this generic field are the basis for the growth of Hana Pharm.

In addition, the company holds a number of patents related to sustained release technology of poorly soluble drugs, diffusion-controlled sustained release technology and combined drug manufacturing technology.

HNP-2006 Molecular Structure imaging



The Hana Pharm research division is developing innovative first-in-class drugs in collaboration with prominent biotechs and academic institutions, proactively.

Remimazolam(HNP-2001) is a novel ultra short acting anesthetic agent/sedative which Hana Pharm in-licensed from Paion AG, Germany in 2013.
Hana Pharm conducted P3 study in general anethesia in S. Korea and completed the submission of NDA to the MFDS in December 2019.

Hana Pharm's 'HNP-2006' is a next-generation cyclic gadolinium contrast media, reducing the risk of developing nephrogenic systemic fibrosis (NSF), a fatal kidney side effect of existing products.
It also reduces the problem of gadolinium remaining in the kidney and the brain to enable safer MRI screening.